Play the Blues, Bonita Springs
Posted:
Is Bonita Springs ready for the Blues?
If Pelican Landing residents and guests are looking for something fun to do this weekend, eleven bands will rock the band shell at Riverside Park in Bonita Springs, according to this Naples Daily News article, during the 8th annual Bonita Blues Festival from 1 to 9 p.m. on Friday and 11 a.m. to 9 p.m. on Saturday.
Tickets are $40 for the weekend if purchased in advance or $50 at the gate. And tickets for Friday are $25 and $30 for Saturday, whether purchased in advance or at the gate.
"I think it has become one of the premier events we have here, from its grassroots beginnings to what it is now," said Mayor Ben Nelson. "It attracts a lot of people to the region, and any time we have an event at Riverside Park it highlights to everyone what a great and beautiful place we have here, how much fun it is to live in Bonita Springs and what a great lifestyle we have."
It Started as a Dream. Now its a Reality
Along with her husband, Kevin, and friends Mike and Terry Pfeffer, Jennifer Barry of Bonita Springs came up with the Bonita Blues Festival while attending a music festival on Pine Island in 2005.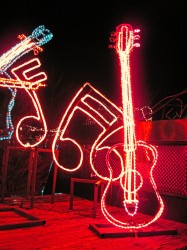 Eight years later and their dream is still going strong.
"We love music, obviously, and we love the venue in Bonita Springs," Barry said. "(Riverside Park) is such a nice park, and we decided it would be the perfect spot to do it in. Then, of course, there are the charities and giving back to the community."
On Giving Back
Since its inception, the Bonita Blues Festival has raised $76,000 for various charities, with a record-setting $21,000 raised last year.
"Hopefully, we'll reach close to $100,000 this year," Barry said.
This year's featured charities are the Golisano Children's Hospital Music Therapy Program, the Music for Minors Foundation of Lee and Collier counties and the Bonita Springs Assistance Office.
"It's a really awesome and great experience to watch the kids and how they're affected by the music," Barry said of the hospital-therapy program. "It helps them heal and cope with what they're dealing with. The Music for Minors Foundation (is a featured charity) because, frankly, there are a lot of kids with musical talent who don't have the money to rent or buy an instrument, and it's hard for the schools to afford it. And the Bonita Springs Assistance Office does a lot of great work locally. It's a helping hand up, not just a handout."
Barry said she expects more than 3,000 people to attend the festival.
"Most music is based on blues, and a lot of people travel around for the festivals," Barry said. "It's a great community, a family of people who share a love of blues in their hearts and souls."
Nelson feels the same way:
"(The festival is about) being able to gather with friends and sit and spend the day listening to music," he said. "It's about fellowship and sharing music and good times with people, a chance to feel closer together as a community."
It doesn't just stop with the music.
In addition to the music, the Bonita Blues Festival will feature various food and craft vendors, with a "happy hour" Friday from 1 to 5 p.m., when drink prices will be $1 lower.